2014 was a huge year for Larrikin Puppets! Just before Christmas, we reviewed the year and posted this wrap-up:

As we wrap up 2014, I'd like to share some Larrikin Puppets highlights from the year.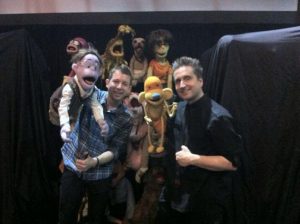 Along with fellow puppeteer David Logan, I met with veteran marionette puppeteer David Hamilton who briefly had a go operating Troggg while I had a turn with his marionettes.
I also had the honour of meeting with American puppeteers Grant Baciocco and Peggy Etra from The Jim Henson Company after their performance of "Puppet Up!" in Brisbane. I had a great chat with Grant and puppeteered with some of their Muppets backstage.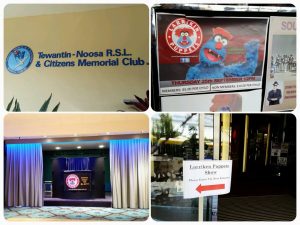 I performed some interesting puppet gigs this year – There was a formal duel 21st birthday masquerade ball, a 60th birthday party, two shows in restaurants, two shows in public parks, several shows at child care centres and schools (including one with sign language interpreters at the Yeerongpilly Deaf School), my second performance at the Royal Children's Hospital, a wonderful school holiday event at the Tewantin-Noosa RSL, some roving puppetry at three charity events and a coffee brand launch, performances at the 2014 Brisbane Zombie Walk Carnival, and the West End Festival, a pre-show puppet performance at a screening of 1979's "The Muppet Movie", as well as my first business flight – for some bookings in Injune, South West QLD (an hour's drive from Roma).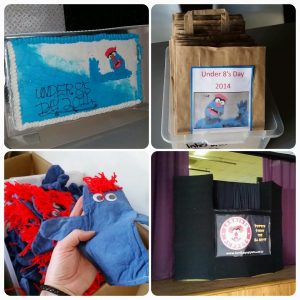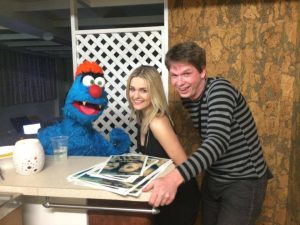 This year, we saw the release of two short film projects that I helped with in 2013: "Cluck – The Web Series" and "Heart of a Thousand Souls". HOATS featured a couple of
scenes starring Troggg, and so he was asked to host the premiere screening.
With a cast of very clever improvisational theatre actors from ImproMafia and Edge Improv, we crowd-funded, rehearsed and performed seven technically complex, and well-attended performances of "Thank Troggg You're Here: A Puppet Impro
Spectacular!" (the first four as part of the 2014 Anywhere Theatre Festival).

Also in theatre, I ran puppetry workshops for a new 2014 Brisbane cast of Tony Award winning puppet musical, "Avenue Q" (having previously been a cast member and 'puppetry consultant' in the 2012 production). It was great to later attend the Off-Broadway production at New World Stages in New York City, and meet with Jason Jacoby – the current puppeteer behind Nicky and Trekkie Monster.

The New York trip also included designing two new puppets – Lexington and Pleasant – at The Muppet Whatnot Workshop (in toy store FAO Schwartz), and visiting the "Somebody Come And Play" exhibit at the New York Public Library for the Performing Arts, where several Muppets from Sesame Street were on display. We also got to see Kaufman Astoria Studios, where Sesame Street is filmed.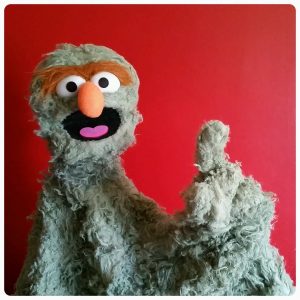 Other new additions to the Larrikin Puppets cast this year included a singing cheesecake, Flossy the pink monster, three frogs, a yellow bird, a pig, Grandma, Ostrich, Ratbag, and a big green monster named Moss.
Larrikin Puppets received some great media attention this year too – A 4zZz radio interview with Andrew Bartlett, newspaper articles in the South East Advertiser, My Sunshine Coast, YLM: Your Local Mag, and we even made the front cover of MX Newspaper!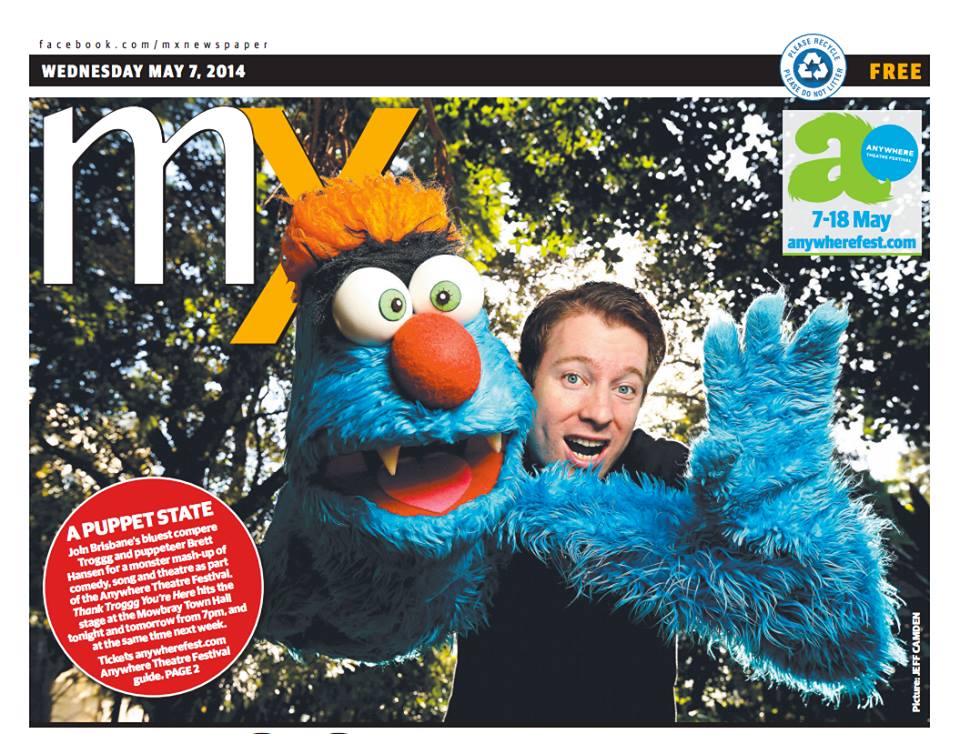 Overall, it was a busy and spectacular year for this small Brisbane-based arts business, specialising in the underrated art of puppetry.
Merry Christmas!
Brett Hansen
Puppeteer – Larrikin Puppets