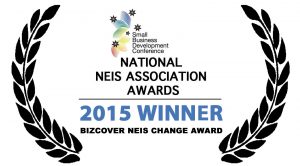 On Monday 12th of October 2015, Brett Hansen, Elissa Jenkins and Troggg flew down to Melbourne to attend the Small Business Development Conference 2015 Gala Dinner for presentation of the National NEIS Association Awards. The Awards Dinner was held in the Limelight Room at Etihad Stadium in Docklands, Melbourne.
Brett had been nominated for the BizCover NEIS Change Award by his NEIS business mentor Sandra Gartner. Larrikin Puppets was set up under the NEIS programme in 2012. To explain what NEIS is, here's a description from the National College of Business Management website:
"NEIS is an Australian Government initiative to assist eligible job seekers who are interested in starting and running a small business.  NEIS commenced in 1985 and is currently the longest running and most successful self employment program in the country.
NEIS can provide you with accredited small business training, business advice and mentoring, as well as ongoing income support for up to 39 weeks".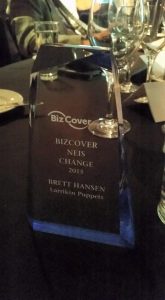 Why Larrikin Puppets was nominated in the 'Change' award category, is best explained by Brett Hansen himself, in this story he wrote prior to winning the award on the night:
My ‪Story: I have been a creative person since the first time I picked up a crayon. I have always drawn, played piano and performed puppetry. These have always been my greatest talents. I was pretty terrible at most other things at school.
Fast forward to my adult life – After years of studying animation, fine art and film, nobody would hire me in those industries. I was a hobby cartoonist and keyboard player in several bands, but the only paid jobs I could ever get were janitor, dish washer, retail worker, storeman, and call centre phone monkey. I eventually studied business and office admin so that I could get better jobs. But I still couldn't get into anything better than the above list of occupations. I was never able to earn much money. These are minimum wage jobs.
My wife was very unhappy about both the money side of things, and the fact that I was depressed, miserable, and aching from all the heavy lifting. I'd sometimes work up to 15 hours a day and still not have enough money to pay the bills, let alone take my wife out for a nice dinner.
Performing puppetry was one of my talents, and eventually an opportunity to perform in a local production of Broadway puppet musical Avenue Q came up. I auditioned and was accepted into the company as the show's 'puppetry consultant', as I was the only one with the skills to train the other actors in puppetry. I was also cast as a co-puppeteer for two of the characters. This was a volunteer activity. No payment. But it was a wonderful experience, which I balanced with my full time day job.
Six months later, Avenue Q ended. My full time day job ended. And my marriage ended. All at once. I was at rock bottom, with nothing to my name but whatever savings I had left, and a few puppets.
I had wanted to start up a puppeteer business on the side for a while. But time around long work hours was difficult. Now I finally had an opportunity! I had NOTHING to lose.
Someone suggested that when I go to Centrelink, I ask about the NEIS programme (New Enterprise Incentive Scheme), which is an entrepreneurial alternative to filling out job diaries. If you are unemployed and have a great idea for a new small business, NEIS is fantastic! They put you through a Certificate IV in Small Business Management, Entrepreneurial and Small Business Operations. Then they team you up with a business mentor for one year. Your assignments throughout the course are literally the things you need to get your business started – All the necessary licences, insurances, marketing tools, etc.
Three years later, my business takes me all over Queensland performing regular puppet shows at parties, festivals, childcare centres, schools and ticketed theatre events. I've also been able to puppeteer in several film and TV projects. I met and married a wonderful woman who loves me for all of my quirks and creative madness. She shares my journey as we live and work happily from home together.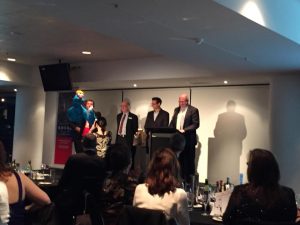 And tomorrow, we're off to Melbourne to attend the National NEIS Association Awards Gala Dinner. My NEIS mentor nominated Larrikin Puppets in the 'BizCover NEIS Change Award' category, and now I'm a finalist in the top 3!
My life went through some huge changes at the time I started my business three years ago. That's why I'm up for a "Change" award. But whether I win the award or not, my life is better than it ever was before three years ago because every day is now different, interesting, exciting and full of love and support.
And that's what motivates me to get up everyday and run my own business.
Thanks for reading 🙂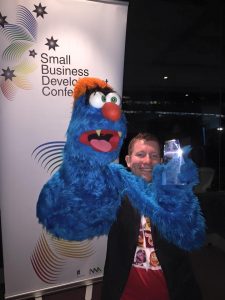 Brett (and Troggg) won the BizCover NEIS Change Award on Monday, 12 October 2015 at the Small Business Development Conference in Melbourne.